Podcasts can be great for business and being a podcast host can be great for your personal brand. Okay, we would say that, we're a podcast company. But you don't have to look far to see the way that they're evolving in the world of business: in 2018 there was a total of almost 500,000 podcasts on Apple Podcasts alone. There are now over 2 million, and a huge (and increasing) number of these come from the world of business.
As the audience for podcasts grows, and as more and more brands see themselves as publishers, more businesses are getting on board. What better way is there to provide high-value content to an audience while establishing your brand? Especially when you hear that podcast listeners are almost four times more likely to like than dislike brand-owned podcasts. If starting a podcast is on your radar (and we highly recommend that it is), one of your first questions might be who to have as the host (aka the presenter).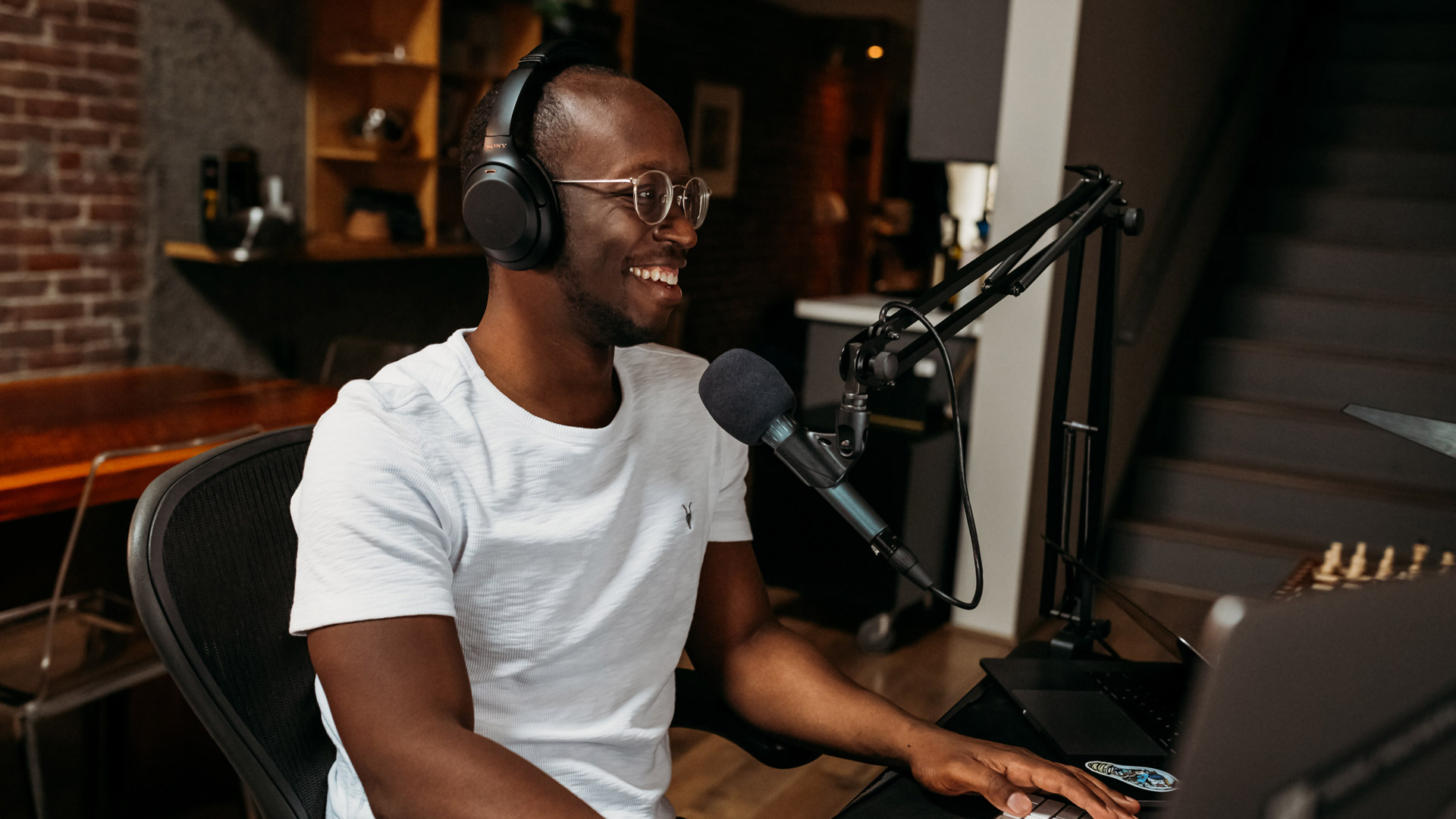 Becoming a business leader in any field takes skill, time and patience. But the skills needed to host a podcast can often come from a different tool-set.
Why are you starting a podcast?
Once you know why you are launching a podcast, you will be able to consider who the best host would be to help you achieve your goals.
Podcast formats can vary wildly. Some podcasts are voyages of discovery, where a host answers a question by speaking to numerous different people. Some are straight down the line interviews that are well edited and tightly produced. Some are single-person explorations or self-told stories (like our podcast for Canopy & Stars), where someone is telling their own story in their own words.
What stories do you have to tell? Do you want to spark debate and conversation, or build your reputation? Are you trying to spotlight an individual or a series of individuals? Do you want to create a chat-show style podcast with back and forth energy? Or more direct explainer style episodes with no tangents? Or do you need to bring people's stories into the foreground, like in TEDx's Reflect, Rethink, Reboot?
Ultimately, your goals should determine your direction.
A good podcast host is hard to come by
A good podcast host is someone who has familiarity with the area they are discussing, but also someone who has the warmth and communications skills to captivate an audience. They need a keen ear for storytelling, and the ability to ask the right sort of questions.
Explore your network and extended network, but also look to those sectors which compliment your own for inspiration. Are there journalists you admire with specialisms in a particular area? Are there influencers or media personalities you can approach? There could even be the right person right there under your nose in one of your teams, they may even run their own successful podcast in their spare time!
These sorts of people are likely to have the skills you require but also the passion for the subject matter.
Find this useful? Leave your email for more guides and insights
Hiring an external podcast host
An external host from a journalistic background may be precisely the right person for your job. A person from a field adjacent to the one your business operates in can bring in enough of their own experience to act as an authority, while still having the curiosity to know which avenues in an interview are the ones to go down.
When hiring an external host, you're bringing in someone with an outsider's perspective, and as a result they can be better placed to ask the questions your audience cares most about. If they're learning at the same pace as your audience, your podcast is far less likely to talk over your audience's heads.
And then there's office politics, which can be avoided if the interviewer is not part of the business and, depending on the profile of your host, they'll bring some of their own audience to your podcast.
there's a difference between seeming like a great host and actually being one…the funniest person in the office may bomb at a comedy night
Keeping things in-house
This isn't to say that keeping things in-house is the wrong decision. If your CEO is trying to set themselves up as an industry thought leader, having them host may be the right way forward. While being over-familiar in a field could alienate listeners, someone's curiosity in how that field is developing could translate into natural enthusiasm. Authenticity is key in the world of podcasts. Genuine zeal is hard to replicate.
However, if this is the route you do decide to choose, remember that there is a difference between seeming like a great host and actually being one. The funniest person in the office may bomb at a comedy night, and the person who wows everyone at each year's Christmas karaoke may be ill-suited for the stage. A CEO may be naturally confident, comfortable and gregarious. But the most important thing to a podcast is an audience. If an audience isn't responding, something has to change.
One potential solution to this was found by Zerocarbonista. The draw of the podcast is Dale Vince of energy company Ecotricity, but in each episode he has a professional radio journalist to conduct the interview and draw out the most compelling stories for listeners.
How we can help
Podcasts are rapidly re-shaping the way consumers interact with business in the 21st century, and it's important to get on board with that trend sooner rather than later. And yes, we would say that. We're a podcast company. But we're a podcast company because we love audio and because audiences are at the heart of everything we do.
Whatever direction you want to take your podcast in, we know how to help. Whether that's in training someone from your own team to be the best host, or scouting out the perfect host to act as the ear of the listener. For more advice from 18Sixty, see how to make podcast artwork that pops or check whether you've missed one of the 5 things podcasters forget to budget for.
18Sixty are a full service podcast agency based in Bristol, UK and proud to be working with incredible brands from around the world. Get in touch today to find out more.